Download
Get the best free antivirus for all your devices
Bitdefender
Antivirus Free Edition
Proteção segura e leve
We make the Internet safe for you. You can be sure all threats
are taken care of when you browse the web. We use advanced
technologies such as machine learning to protect you from
phishing and other types of fraudulent content.
Get Free Antivirus for Windows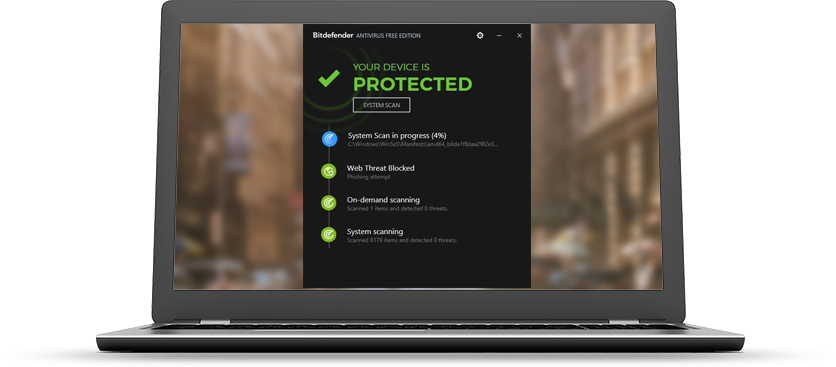 Viva sua vida digital em velocidade máxima
We know speed and performance are vital, so we engineered our free antivirus solution
to be light on system resources.

Aproveite todos os benefícios da premiada segurança do Bitdefender no Windows 10
Características
Verificação e remoção de vírus

On-demand & on-access scanning - powerful scan engines ensure detection and removal of all viruses.

Controle Ativo de Ameaças

Bitdefender Antivirus Free uses an innovative technique called behavioral detection to closely monitor your active apps. When it detects anything suspicious, it takes instant action.

Anti-Phishing

O Bitdefender Antivirus Free detecta e bloqueia websites que se passam por confiáveis para roubar dados financeiros, como senhas e números de cartão de crédito.

Antifraude

Nosso sistema de filtragem o alerta sempre que você visitar websites que podem tentar fraudá-lo, como cassinos, sites pornôs, esquemas de empréstimo de dinheiro e outros.
Requisitos de Sistema
- Sistema Operacional: Windows 7 Service Pack 1, Windows 8, Windows 8.1, Windows 10
- Espaço disponível no disco: 2 GB de espaço disponível no disco rígido (pelo menos 800 MB na unidade do sistema)
- Memória RAM: 1.5 GB
- Intel CORE Duo (2 GHz) ou processador equivalente
- Requisitos do software: Internet Explorer 10 ou superior
Copyright © 1997-2017 Bitdefender
Todos os direitos reservados.